Since have worked at the War Remnants Museum, I interested in introducing traditional Vietnamese dishes to international tourists and young people. In a place that seemed to have nothing related with cooking, eating, but we once held a meeting of "Resistance war's cuisine" in 2011. We introduced Vietnamese food which was associated with a time of bombs, fire and sword: rice balls, sweet potatoes, cassava, Banh Tet... Visitors and young people enthusiastically tasted and listened to the emotional stories about each dish. Many tourists were surprised and shared: "I thought during the Vietnamese war, people received aid from the Soviet Union and China ... Who would have thought that your "fast food " was really unique and healthy? It wrapped in foil, very environmentally friendly!"

When worked in the Ao Dai Museum, I was immediately fascinated by the stories and people of the outskirts of Saigon, and also the unique rustic food in this region. Banh It is found in many parts of Central and Southern Vietnam. But here, the rustic villagers have some secrets to make Banh It, so that anyone has ever tasted it hardly to forget!

They use pineapple juice to knead sticky dough, so that the crust is yellow, clear, fragrant without chemicals. The dumpling in cake is either green bean or grated coconut is also moderately seasoned, making people not too bored because of sweetness. Banana leaves, which to wrap a cake, be dried in the sun to make supple and soft before wrapping ... Almost every family packs a little cake for the holidays, to worship grandparents, and to make gifts for guests. There are also families throughout the four generations who have lived on the making Banh It and sold in rural markets ...
Although nervous and stressed, we are still determined to use "Banh It of District 9" as gifts for delegates and guests who attend to the "Mother's Lullaby Meeting" in the Vu Lan season in 2018. Beside Minh Hien Artist (who can sing lullabies in five ethnic minority languages), we invited Mrs. Nguyen Thi Sau, a female farmer, former political prisoner of District 9 come to sing a lullaby and give some cakes to guests. The image of the small woman with yoke of Banh It on her shoulder, reminded economical grandmothers, mothers, sisters all over Vietnam. Participants dried their eyes after had listened the smooth, maternal love songs and laughed happily when they received a rustic gift from a woman bearing the silhouette of Vietnamese mothers. That afternoon and the following days we continuously received calls from guests and colleagues. Everyone was moved by "Mother's Lullaby Meeting" and marveled at the strange delicious home gift!

In October 2018, when Soldier's Heart Organization notified that they would bring a delegation of US war veterans and their relatives to visit and have dinner at the Ao Dai Museum, we determined to teach them to make Banh It. They are war veterans who are suffering from PTSD - Post-traumatic stress disorder. The image the hands of the "old enemies" caress the small, green cakes carefully and placed inside the steaming tray have special meaning. Their glittering eyes turned to the fire, nervously expecting the cooked cake to make everyone happy ... The war is over, really gone! Now they are friends, sitting together waiting to eat cakes. American veterans, who have been struggling with illness, nightmares, regrets, now cry, laughed and talked to me: "Such a memorable day!". More farmers came to help the Museum welcome guests, teach them to make cakes that afternoon meeting also had an unforgettable memory: the opponent became friends after a strange lesson!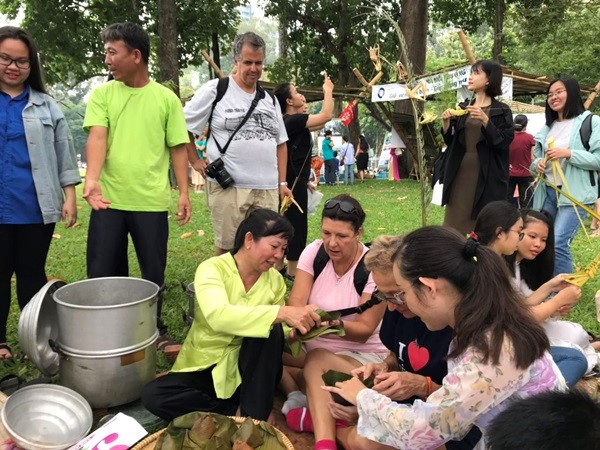 Instruct travelers wrapping Banh It

In the 1st Ho Chi Minh City Cultural and Peace Festival on October 13, 2018, the Ao Dai Museum has participated in the activities of "Cultural diversity" and "Mix with nature and the environment". We organize again for international tourists and young Vietnamese to experience making Banh It, in the yard of Independence Palace. Besides the "Commander" is "Second Girl" - former political prisoner Mai Thi Hanh, we have "trained" a young team include Museum staffs, volunteers to guide guests. Both international guests and young people realized that Banh It is a type of Vietnamese fast food, it very healthy: not greasy, low in sugar, salt... Banh It are very environmentally friendly because of the package by banana leaves, not by plastic packaging. In just one morning, guests have "consumed" cleanly hundreds of cooked and uncooked cakes. They also begged to bring back as a souvenir.

After two meetings at Binh Phuoc Provincial Museum and The Garden Mall (in District 5, Ho Chi Minh City) on the occasion of the Lunar New Year, we were determined to bring "Making Vietnamese traditional cake – Banh It" to the official services of the Ao Dai Museum. Along with the Ao Dai, the Museum will contribute to preserving a traditional dish of the nation, of a Saigon suburb ...
It rarely agencies and units give Banh It as a present to each other, but because of a big love with this rustic cake, we tried to give it to them: Southern Women's Museum, War Remnants Museum, 115 People's Hospital, Quan Ho Club…It was really surprised and touched to receive a "reply" from friends and colleagues: " The name cake is "little" but a lot of affection" (Banh It: "Banh" means cake, "It" means little); "The cakes are delicious, hygienic because they are thoroughly wrapped and then cooked"; "Gourmet like us but also very surprised!"; "In the future, when our family have anniversaries and ancestor-worshipping day, could the Museum please help us making Banh It?" .
Instead of flowers, expensive but unrealistic gifts, that rustic gift was divided by the units from the heads to employees, also brought home to enjoy. Phones called in the midnight, early in the morning, at noon to thanks, to "blame" for so delicious cakes but not enough, to make me both funny and touching.

December 2018, Department of Agriculture and Rural Development City and the Organization of the contest "Beautiful Ecological Garden of Ho Chi Minh City" have unexpectedly awarded the First Prize to the Ao Dai Museum and invited to share experiences. We were surprised because that many other gardens are more beautiful and elaborate than the Ao Dai Museum. But the Organizing Committee and the Conference were "let oneself be persuaded" when the Museum attracted farmers around District 9, veterans and former prisoners introduce to international guests and young people lullabies, Banh It stories, toys made of coconut leaves, the Ao Dai stories ... The staffs here really in love with the Museum, ready to contribute to serve guests with their own knowledge and skills. Museum staffs are increasingly resourceful, better when besides foreign language and computers skills, they also know making Banh It, coconut leaves toys, singing lullaby ...

Museum is not only places to preserve the past but also alive and breathing with the timeline. Banh It is not only a product of the past, of some remote countryside but also alive next to each person, reminded about the homeland, about the affection of village, of the Vietnamese people ...

Authors: Huỳnh Ngọc Vân - Lương Hồng Nhung