What is Water Puppetry?
Water puppetry (the form of using puppets to perform games and plays on the water surface) is considered to be a unique intangible culture of the Vietnamese nation, a long-standing traditional folk art form in the region. This performance often takes place during festivals, village festivals, happy days, and New Year holidays in the Red River Delta

Modern water puppetry is performed in a pool of water 4 meters square with the water surface being the stage, is called "thủy đình" ("thủy" means water, "đình" is a communal house). Puppeteers set up the stage on a pond or a portable tank built for traveling performance or in a pool stage as in many water puppet theaters in Vietnam. Spotlights and colorful flags adorn the stage and create a festive atmosphere.

The level of water is kept waist-deep of the puppeteers so that they can manipulate the puppets behind.
Up to 8 puppeteers stand behind a split-bamboo screen, decorated to resemble a temple facade, and control the puppets using long bamboo rods and string mechanism hidden beneath the water surface.
A traditional Vietnamese orchestra provides background music accompaniment. The instrumentation includes vocals, drums, wooden bells, cymbals, horns, Ðan Bau (monochord), and bamboo flutes. The bamboo flute's clear, simple notes may accompany royalty while the drums and cymbals may loudly announce a fire-breathing dragon's entrance
Singers of chèo (a form of opera originating in north Vietnam) sing songs which tell the story being acted out by the puppets. The musicians and the puppets interact during performance; the musicians may yell a word of warning to a puppet in danger or a word of encouragement to a puppet in need.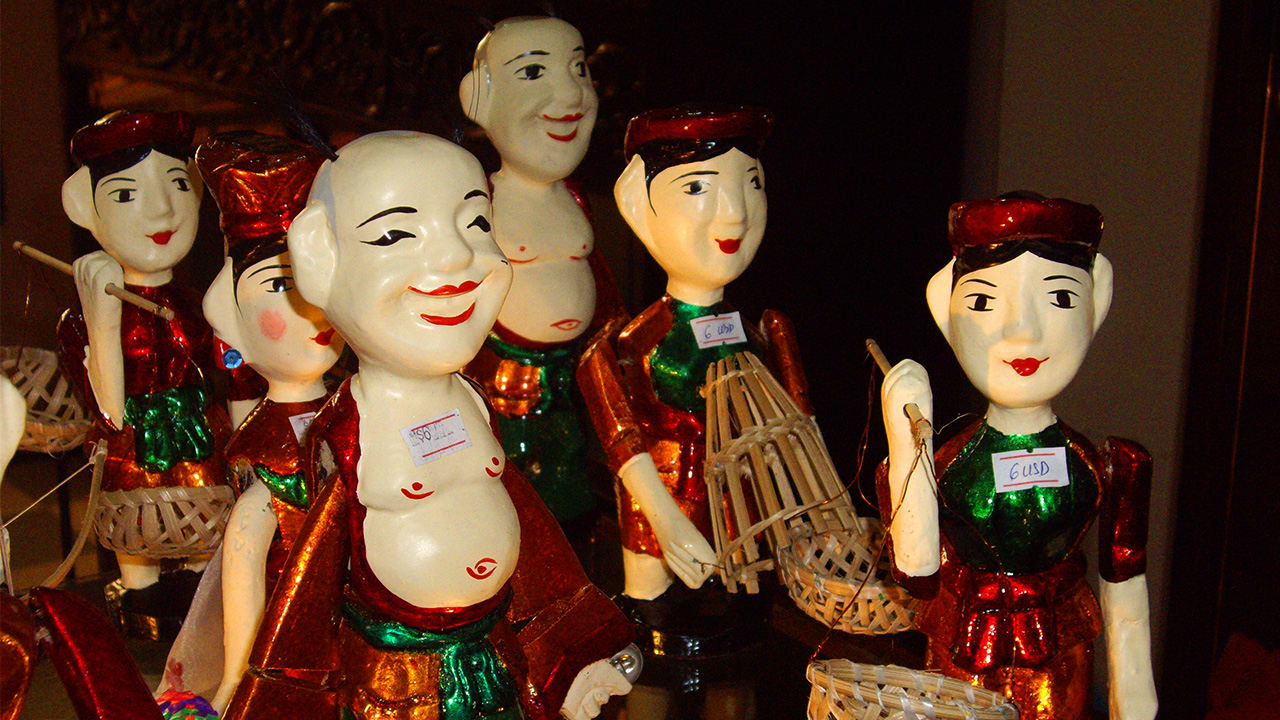 The puppets are carved out of wood and often weigh up to 15 kg.
History
According to historical legends, the water puppet was born from the construction of Co Loa citadel, King An Duong Vuong, in 255 BC. According to history books, epitaphs, water puppet was born in 1121 (Ly dynasty).
In Vietnam's water puppet treasure, there are 30 traditional repertoires and hundreds of modern puppet shows that tell about the folk tales and everyday life of the Vietnamese people. The art of water puppetry is a cultural product of indigenous ethnic Vietnamese, developed in most villages around Thang Long citadel and most puppet wards in the Northern Delta provinces.
Development of Water Puppetry
In India and Southeast Asian countries, there is only hand puppet, rod puppet and string puppet. Water puppet shows are only found in Vietnam and China. According to professor J. Pim-pa-ne-au, water puppetry has disappeared in China and today "only exists in Vietnam".
The central puppet troupe not only introduced hand puppet shows, stick puppet shows and water puppet shows, but also encouraged the creation of new repertoires as well as the study of the history of water puppetry.
Currently, there are 6 professional puppet troupes in Vietnam: Central, Hanoi, Hai Phong, Ho Chi Minh City, Dak Lak and Quang Tri. There are also dozens of water puppet wards in many localities of the Red River Delta.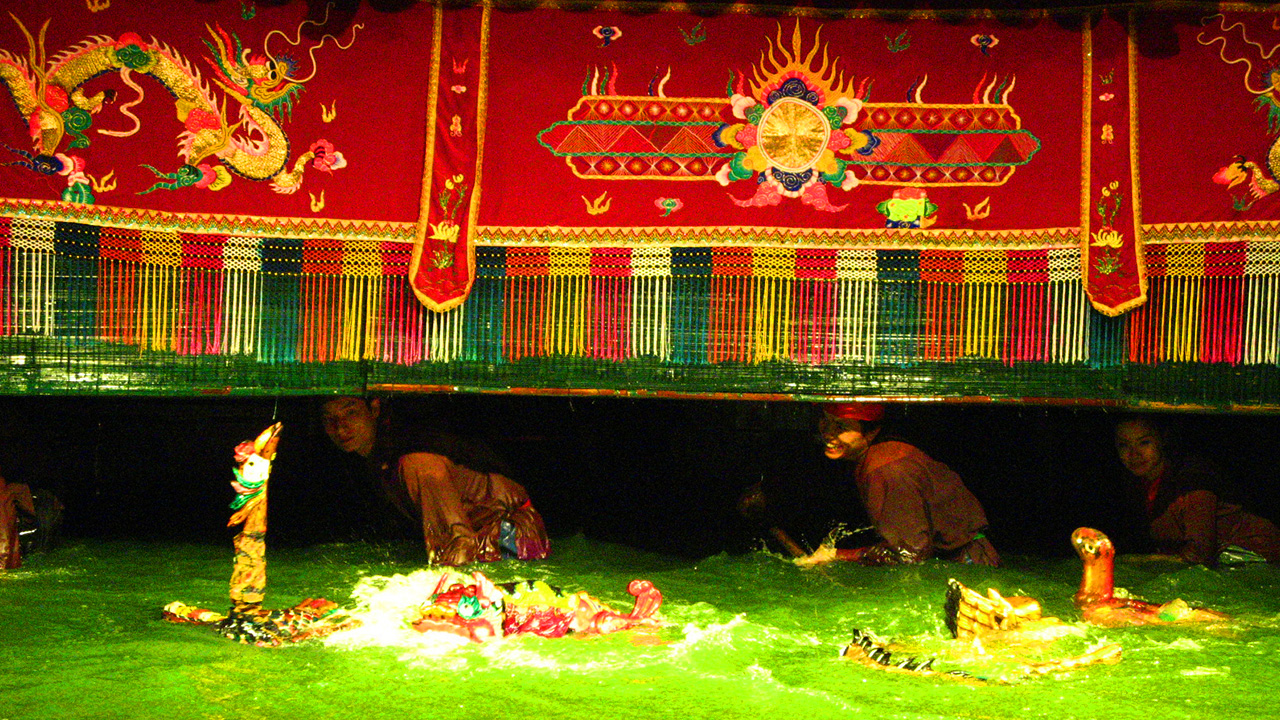 Over the years, many Vietnamese water puppet troupes have participated in several international puppet festivals, have won many high prizes and have attracted the attention of audiences from many countries. With the efforts of Vietnam's water puppet industry, this art is being protected and developed to deserve its stature in the national cultural heritage. It is hoped that the water puppet show will not only be the pride of the nation but also the pride of Vietnam in the international arena.
Hoping to help visitors understand all cultural aspects of our country, Ginatour so pleased to bring the water puppet tour in 2 major cities, Hanoi and Ho Chi Minh.